"Author discusses son's addiction in relation to the Jewish community," Jewish Journal
"Author discusses son's addiction in relation to the Jewish community," Jewish Journal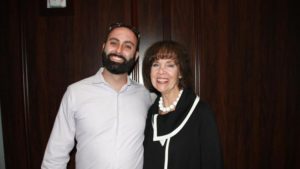 Author Lisa Hillman discussed her book "Secret No More: A True Story of Hope for Parents with an Addicted Child" in three separate programs for rabbis, high school students and general audiences that took place recently in Boca Raton.
Hillman and her son Jacob, a former substance abuse addict, each shared their personal stories of coping with Jacob's opioid addiction. They discussed their journeys to give hope to parents struggling with a child from addiction.
"When addiction first crept into our household 11 years ago, I started keeping a journal. I poured out my anguish, fear, confusion and shame. The journal was the only place, until many years later, that felt safe to reveal the terrible secret that was destroying our family," said Lisa Hillman.
Read more here.