Secret No More: A True Story of Hope for Parents with an Addicted Child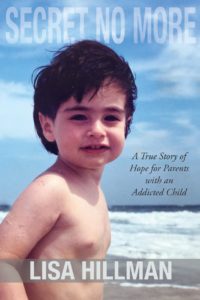 In the midst of America's worsening opioid crisis, healthcare and fundraising professional Lisa Hillman gives us a searing memoir about her journey facing her son's addiction. Unlike similar stories, Secret No More is a mother's story, told by and about her, and details how the disease harms the entire family. Written in prose that's both brutally honest and at times poetic, the story offers a rarity in addiction literature: this one ends with hope.
"This is the book I wish someone had given me when I was living with active addiction. I yearned for a 'happy' ending – anything to give me hope," said Lisa Hillman.
Hillman's story is all the more compelling against a backdrop of personal and professional achievement in a town where she was well-known. From all outward appearances, she was leading an idyllic life. Her husband was a former mayor. They'd raised a happily married daughter. Her son, born on his sister's fifteen birthday, was growing up healthy and accomplished in the town they loved, Annapolis, Maryland.
But when a phone call from a respected teacher jarred their household at the start of Jacob's senior year in high school, her world begins to turn dark. A secret starts to worm its way into their lives, bringing all the same emotions an addict feels: denial, isolation, shame, secrecy and depression.
Hillman is helpless to help her son as his addiction progresses from alcohol to marijuana to OxyContin and, finally, heroin before recovery begins to take hold. Meanwhile, Hillman is running a multi-million dollar capital campaign, meeting with high-level donors, and living a near schizophrenic existence, frantic to conceal her son's drug use. At a critical turning point, once Jacob boards a plane to continue his recovery in south Florida, a wise counselor confronts her: "Your son will have his program, now what are you going to do for yourself?"
While the book portrays addiction accurately, its true worth is for parents and families, and anyone who loves an addict. It's a story of Hillman's recovery, the painful process of letting go of control and expectations, sharing her "secret" with colleagues, finding strength in support groups, and giving back to the addiction community. It's also a story of one mother's love for her child, and how shedding shame and guilt make room for a bolder kind of love.
Published by Apprentice House Press and authored by Lisa Hillman, Secret No More is available on Amazon.com.
This is a heartfelt story, told in such a vivid, honest and revealing fashion that you cannot resist admiring the courage of the Hillman family in sharing it.

– Marc A. Whaley, MD, Distinguished Life Fellow of The American Psychiatric Association and President, South-Eastern Massachusetts Psychiatric Society